Overview
"We know homes. Our experience and expertise helps us to see things many homeowners cannot. Our clients know we are always here for them — to help them protect and care for their investment."
— Harry Braswell, President, LEED AP
Have you ever asked a friend, "Do you know of a reliable contractor who is both affordable and trustworthy to do this small project around my house? I can't find anyone who is interested in doing it."
We realize how frustrating AND common this situation is, which is why we started Concierge Home Services. Concierge Home Services is a handyman service. Carpentry, plumbing, exteriors, HVAC, electrical, and maintenance… we do it all. In fact, it is our policy to always find an answer or solution for you. If we can't take care of the project in-house, we can tap into our extensive network of subcontractors and vendors to find a solution.
As a division of Harry Braswell, Inc., we have the resources of a large construction company and the reputation for excellence and trust that comes with more than 30 years in the business.
Handyman
We make it a priority to find a solution to every problem our clients encounter. We leverage expertise across many disciplines and a vast network of trusted subcontractors and suppliers. If you're not happy with the finished product, we'll always work with you to make it right.
Our Team
Nathan Reich
Manager, Concierge Services

Nate is the Manager of Concierge Home Services. He worked in education before pursuing his passion for home improvements. His goal is to ensure our members experience exceptional handyman service. Nate earned a BA from Alvernia College and an MA from Virginia Tech.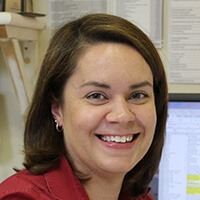 Kim Carr
Assistant Project Manager
LEED AP
Kim helps manage the office operations of Concierge Home Services. She has worked with Harry Braswell Inc for more than a decade, and is our in-house expert on green construction. A graduate of William & Mary, Kim brings a wealth of both residential and commercial construction knowledge to the team.